Expeditions
Stretching and Bonding Journeys in Sri Lanka.
Facing difficult decisions? Unsure of the path ahead? Navigating through increasing demands in business and public service requires a certain explorer mindset, willingness to take risks and relying on your team. Sometimes thinking is not enough but you need to learn how to listen to your inner truth and to trust your intuition.
BB Expeditions are insightful land, air and water based journeys for extra capacity and team cohesion. Take a journey within!
Outcomes of BB Expeditions
1. Awareness of your strengths and limitations.
2. Ability to plan together and execute a shared plan.
3. Capacity for problem-solving and taking initiative.
4. Getting in touch with your inner truth.
5. Increased collaboration, trust, and cohesion.
Co-design your adventurous expedition!
Hiking and trekking expeditions in Sri Lanka:
BB Rainforest Expedition: Team up to explore the entire Sinharaja rainforest
BB Over the Hills Expedition: Trek through the magical hill country.
BB Peak Performance Expedition: Conquer the highest peaks of Sri Lanka.
BB Holy Mountain Expedition: Find your way to the top of Adam's Peak.
BB Holy Mountain Expedition: Extended version of the previous.
Canoeing expeditions in Sri Lanka:
BB Short River Expedition: Ideal first water-based expedition on Kalu Ganga (Black River).
BB Long River Expedition: Extreme bonding journey on Mahaweli Ganga.
Special expeditions in Sri Lanka:
BB Bikers Expedition: Motorcycle expedition around the island, full of freedom.
BB Cross-Country Cycling Expedition: Cycling all the way from Colombo to Arugam Bay.
BB Stroll, Surf & Safari Expedition: Adventure-packed exploration of South-East Sri Lanka.
BB Jungle Survivor Expedition: The ultimate challenge for team's that stick together.
Make the choice
You decide the level of challenge that your team needs right now.
You will be guided by an experienced Expedition Leader and trained support staff.
Each expedition includes professional briefing in the beginning, guidance during the experience and debriefing afterwards.
All expressed durations include travel time to and from the location.
For a longer itinerary, you may mix and match more than one expedition!
BB Rainforest Expedition
3-day trek in one of the most unique world heritage sites, Sinharaja Rainforest. There will be challenges on your way but this expedition is doable by anyone. You get to be one of the very few people who do the entire trekking trail from west to east.
CHALLENGE: rain forest You will experience the breathtaking biodiversity and spend your nights in forest lodges in the wild that each have their special characteristics. This is much more than a mere walk in the forest. Our facilitators guide you and your team also for an internal voyage of exploration. What are the natural riches you can find within? How might your team learn from nature?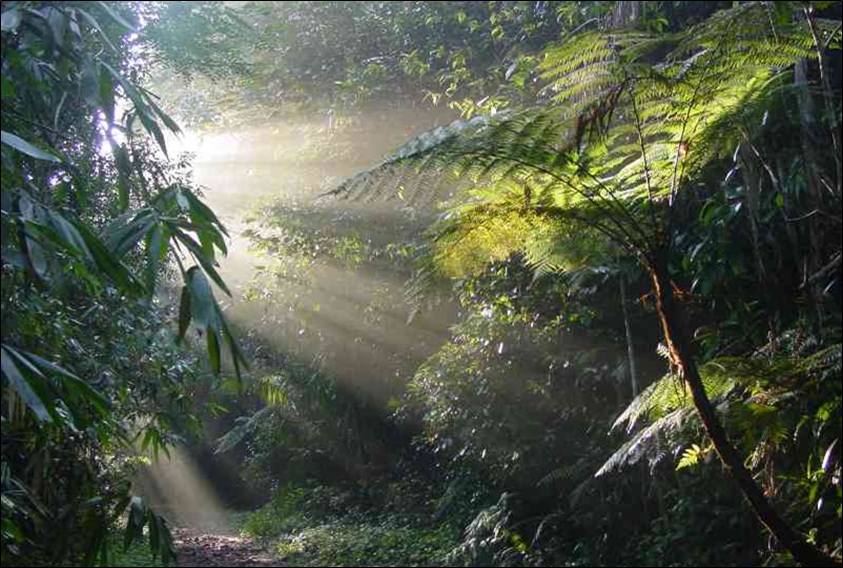 BB Over the Hills Expedition
3-day expedition in the mild climate and magical nature of the Hill Country. You arrive at Belihuloya Adventure Center to get prepared. Early next morning you climb to Horton Plains, stopping at the Bambarakanda Falls – the highest waterfall in Sri Lanka. You will be taking Satan's Steps, named after its hairpin bends, steep climb and the devilish nature.
CHALLENGE:
Relying on your team and on your inner strength, you overcome challenges and reach the national park in the highlands of Sri Lanka. You choose where to stay for the night. There are humble accommodation options available in Horton Plains. Alternatively we can take you to Nuwara Eliya or back to Belihuloya for a nice relaxing night of interpersonal reflection.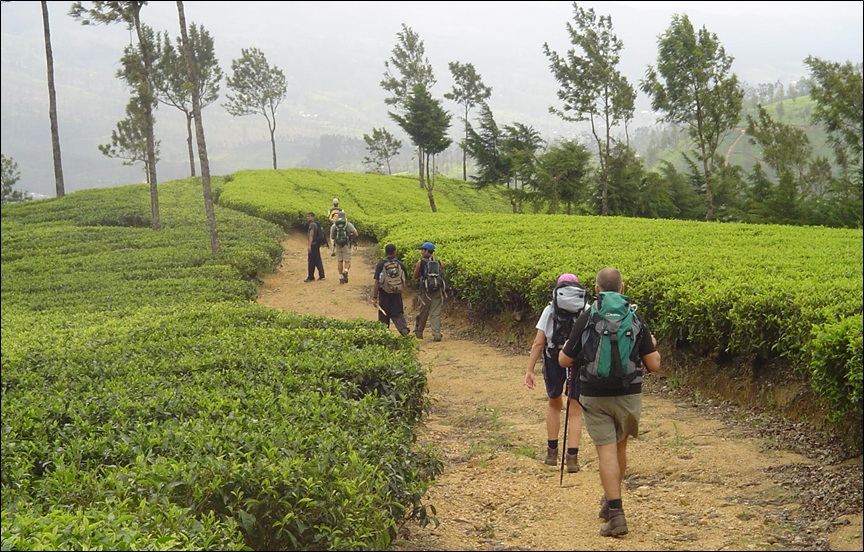 BB Bikers Expedition
5-7 days motorcycle escapade around the paradise island. Compared to countries like India, Sri Lankan roads are fairly well maintained. You get to ride classic Royal Enfield motorbikes through different climate zones every day.
CHALLENGE:
You decide which roads to take although we do give you tips where to stop and plant a few memorable highlights on your way: cultural experiences, team challenges and interaction with locals. In case of emergencies, a back-up vehicle is at your disposal 24/7. The van takes your luggage from one accommodation to the next so you get to focus on the beautiful vistas and feeling the wind of freedom on your face. If you are an inexperienced biker, we recommend taking a week-long preparation course in advance.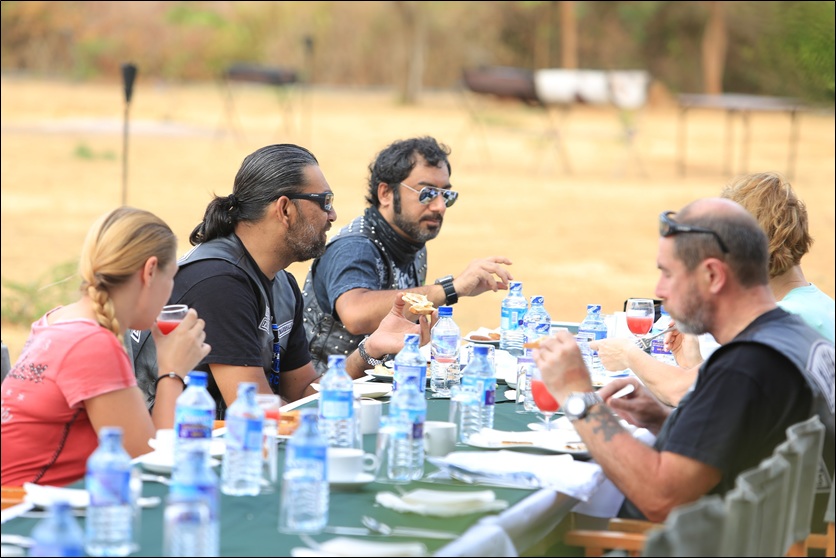 BB Stroll,Surf & Safari Expedition
3-5 days expedition in the south-east, strolling part of the Pāda Yātrā pilgrimage route. You start from one of the Top 10 surfing spots in the whole world, Arugam Bay, and end the journey in an exciting safari in the less well-known parts of Yala East national park.
CHALLENGE:
This combination of wave-riding, trekking and elephant spotting creates a thrilling environment for getting to know yourself and your team better. Should your team require for instance surfing lessons or camping in the wild, we will arrange it for you. Variety of experiences guaranteed!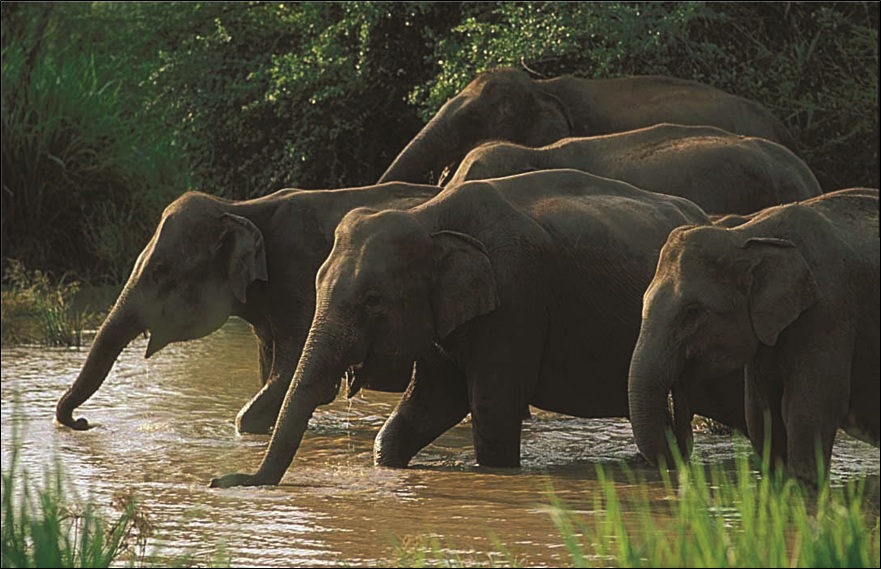 BB Peak Performance Expedition
3-day expedition to climb the highest accessible peak in Sri Lanka, Kirigalpotta. Rising to 2,388 meters this makes the Ella rock pale in comparison. You trek through open fields and thick forests, take on rocky steps and ascend steep climbs that make your whole team huff and puff. But it's worth it! There are fantastic views from the top.
CHALLENGE:
For groups of 8-10 people we can organize an unmatched high altitude camping experience in Horton Plains. Larger groups may stay in picturesque Nuwara Eliya. To extend the voyage to four days we can also climb to Thotupola Kanda.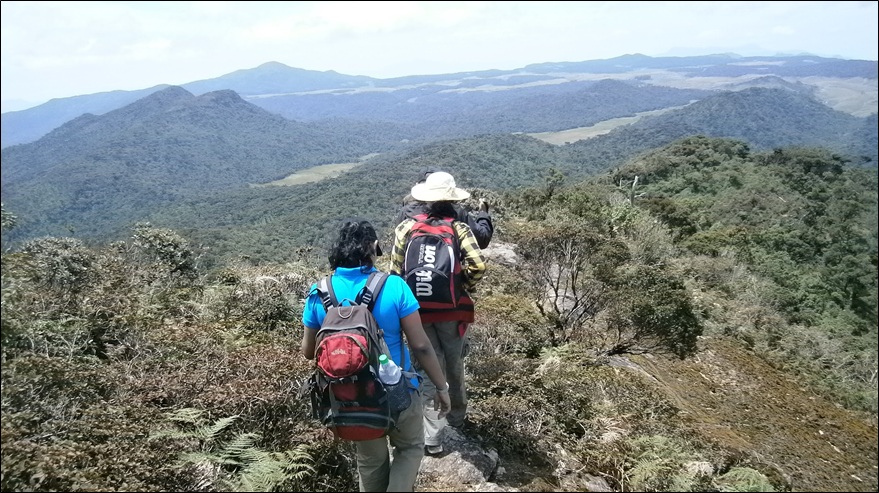 BB Holy Mountain Expedition
3 days expedition to the less trodden paths of Adam's Peak. The 12 kilometer long Kuruwita Erathna Trail that we take is far more challenging than the usual touristy path. Get ready for some rocks and boulders as well as streams and paths through the forest. You will be entirely away from civilization and need to rely on your team to reach the peak.
CHALLENGE:
Once you get to the top – unless it is cloudy – you get to witness a rare miracle of nature: a perfect triangle that sunrise forms in the valley. Alternatively, we can aim at one of the most breathtaking sunsets you have ever witnessed and then run down the 5,500 steps, at night! Should your organization wish to take part in feel like taking part in preserving this precious environment for future generations, we can also arrange the expedition as a CSR activity.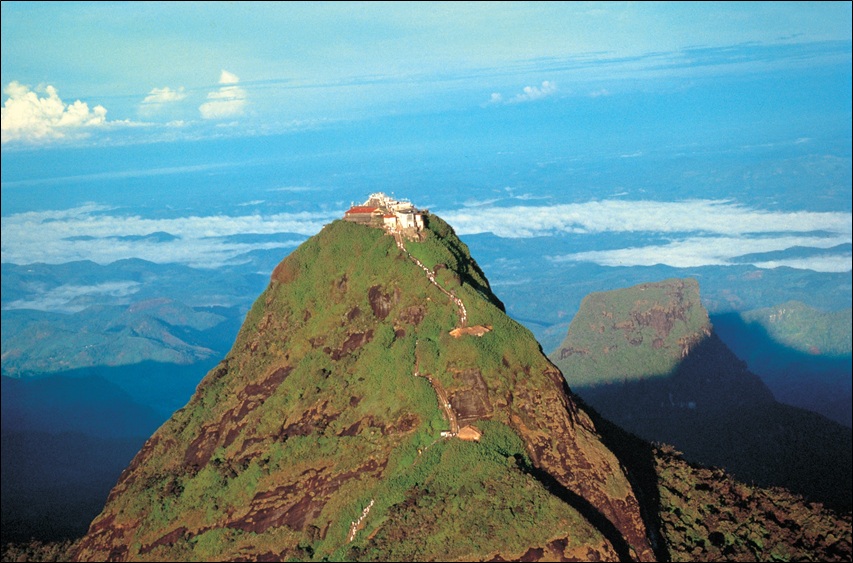 BB Holy Mountain Expedition
This 5-day trekking challenge from Kalthota (350 m above sea level) to Adam's Peak (altitude 2,200 meters) is for teams who truly wish to get to know each other deeply. As your team ascends higher and higher, you start sensing the uplifting spirit. This endurance-testing expedition gets you to new heights also on a personal level.
CHALLENGE:
Every morning we take you to a new starting location, ensuring each day is filled with thrills. You will pass riverine forests, stunning waterfalls, the magically misty Horton Plains national park and vast tea plantations. You camp at a real temple, at a campsite next to a water reservoir, in a cosy lodge in the forest and at the foothills of Adam's Peak.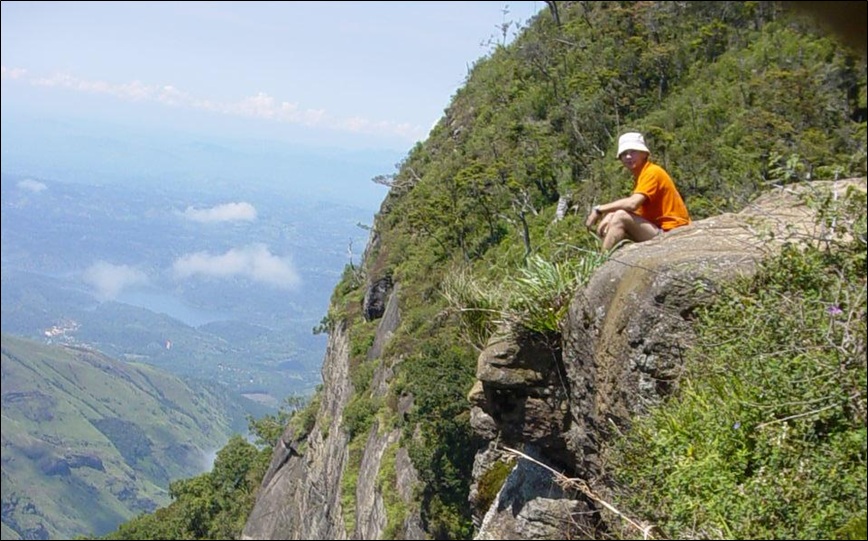 BB Cross-Country Cycling Expedition
5 days cycling expedition, coast-to-coast, for small teams of 8-15 people. We cycle from Colombo to Arugam Bay surfing heaven, passing highlights such as Udawalawe and Yala National Parks as well as historical locations like the ancient temple of Buduruwagala. In case of emergencies, a back-up vehicle is at your disposal 24/7.
CHALLENGE:
Unless you are an experienced cyclist we recommend taking a week-long preparation course in advance. Should you require even more challenge, why not learn surfing in the destination? Your body and mind will be put to a real test.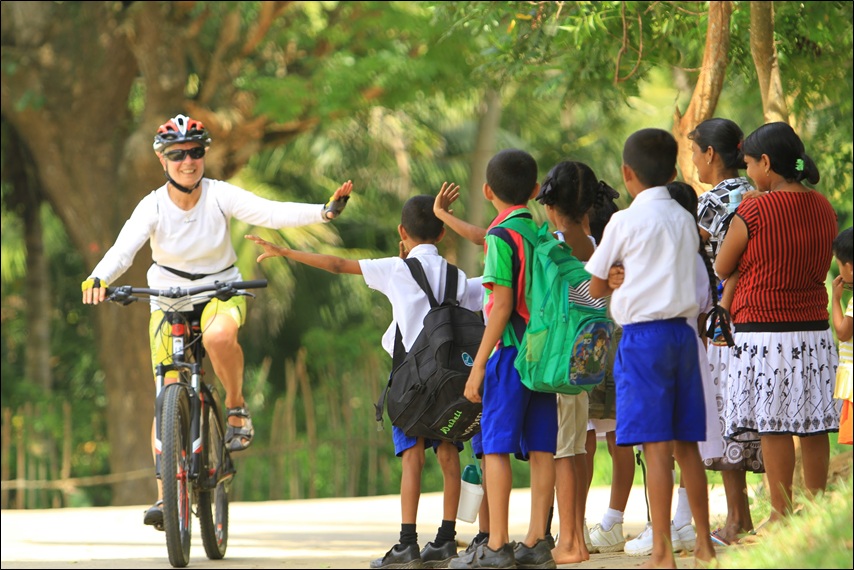 BB Jungle Survivor Expedition
2-3 days expedition in Belihuloya for daring groups of 8-25 people. How do you motivate each other and keep on going? Who will emerge as leaders? How do you make decisions as a team? Will you survive the tough times together?
CHALLENGE:
Upon arrival you are taken through activities and exercises that prepare you for what lies ahead. You get survival gear and a 1:50,000 scale map. You debate and choose as a team how much and what items to carry. The mission is to find your way to a given point before the time runs out.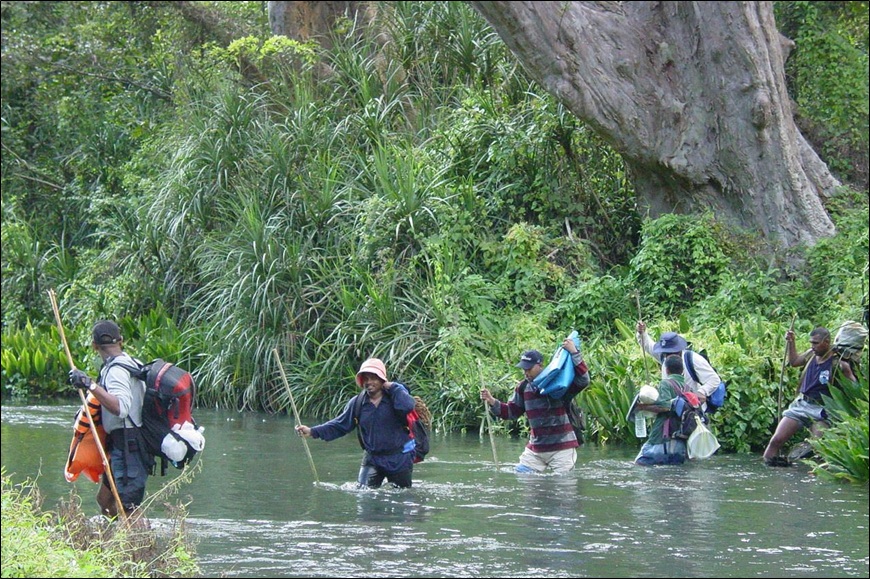 BB Long River Expedition
2-5 days expedition on Sri Lanka's longest river, Mahaweli Ganga. You either make it or break it as a team. The bond that you will create is so strong that you will not think of your team mates as mere colleagues anymore. You become life-long friends.
CHALLENGE:
You are prepared for the journey and your gear is taken care off. However, it is up to you to decide where you want to camp along the way and then to reach that point before nightfall. Risks are manageable but it does not mean you should not be vary of crocodiles, wild elephants and other manageable dangers on your way.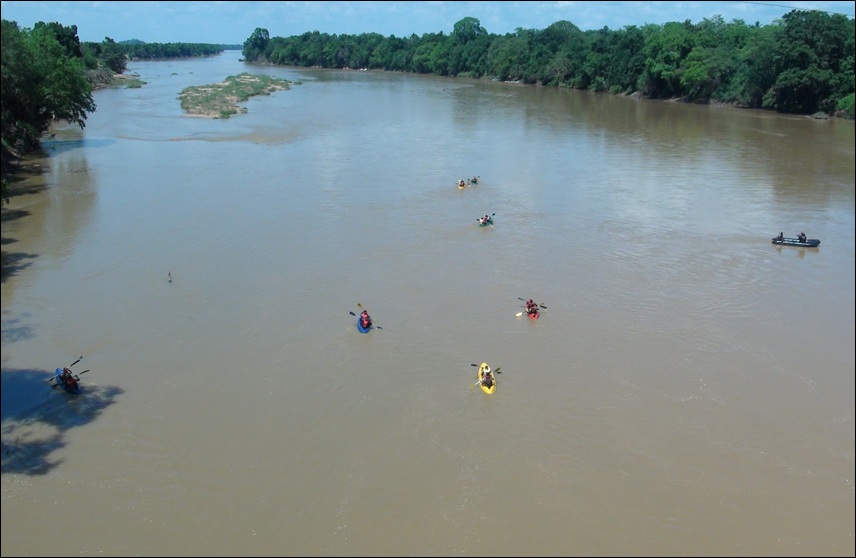 "You can't gather much if you
won't go on risk expedition.
Leaders never fear the thorns;
they'll still go in for the beautiful roses
no matter the number of pricks they'll get."
Let's build something amazing together.
Think we might be the right are friends for your next adventure take a minute love to hear.