Our Strategic Focus
We creatively co-design and daringly deliver reliable, inspiring and energizing experiences for individuals, teams and organizations to spot, shake and shatter boundaries that limit success.
Our Approach
We dare people to go beyond their boundaries and to bond together for better results and real happiness. Our uniquely international approach combines aspects of team bonding, incentives and expeditions into unmatched experiences that help you spot, shake and shatter boundaries that limit your success.
BB Team Bonding increases mutual understanding, respect, affection and trust. It creates a desire to cooperate and help each other out. Learning points can be applied directly at work. These are fun and effective shared experiences for increased awareness and team spirit!
BB Incentives can be used to motivate and retain your best performing employees and most important customers or to reward loyal suppliers, dealers, agents and sales force. It is energizing yet relaxing pampering for those who deserve it, with enough adventure included!
BB Expeditions are an exciting way to get acquainted with our surroundings and get to know each other better through a common journey. Participants develop their problem-solving, initiative and execution capacity. These are insightful and challenging land, air and water based journeys for extra capacity and cohesion!
Our Edge
Being backed by our mother company EcoTeam, a seasoned adventure and eco-tourism company, we are the only team experience designer with an island-wide location inventory and 150-strong logistics team. This also gives us access to inland air transfer and a mobile hotel concept that enables experiences practically anywhere – the most exotic and remote locations included.
Today our management team has a combined experience of 1,000+ assignments. We have served international schools, large multinationals like Microsoft, Unilever, McDonald's, IBM, HP and HSBC as well as a wide range of Sri Lankan companies and organizations.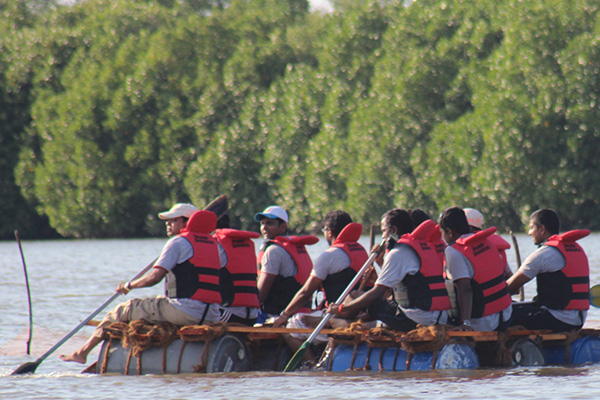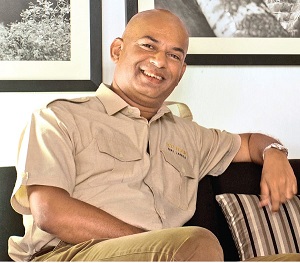 Anuruddha Bandara
A serial entrepreneur, adventurer and trainer Anuruddha Bandara, colloquially "AB", was amongst the first to introduce experiential training in Sri Lanka back in 2000. He is our Chief Experience Officer whose experience guarantees quality in everything that we do.
How do we work together?
Meaning through Purpose: "We are proud of the higher purpose we serve."
Happiness through Wholeness: "We treat people as whole human beings."
Accountability through Mutuality: "We are accountable to the Team, not to bosses."
Freedom through Responsibility: "We work where and whenever it is most practical."
How do we Succeed?
Perfection through Imperfection: "We release early and often, welcoming fast failures."
Mastery through Sharing: "We give and take feedback as a learning opportunity."
Drive through Success: "We celebrate progress, even small achievements."
Love through Style: "We astonish at every touch-point."
Join Us...
..as a BB Community Member!
We would like to invite you to go Beyond Boundaries together with us! We have nearly 8,000 fans in Facebook. Be one of us!
...as a BB Special Agent!
Do you have an interesting proposal for bringing groups for boundary-shaking experiences to Sri Lanka? Could you welcome Sri Lankan groups in your country? Are you sitting on a product, service, idea or network that we could work on together? We welcome value-adding partners, suppliers, agents and affiliates to join us on this journey. Be in touch!
...as a BB Facilitator!
Ready to be a rock star? BB Academy is geared to train you in 50 Basic Competencies that all BB Facilitators are expected to portray. These are personal qualities, communication abilities and experience delivery competencies. With our help you can take an active role in developing yourself through practical facilitation assignments, structured feedback and peer support.
Furthermore, there are 30 Advanced competencies. Once you master these you will be a top-notch experience designer. Advanced add-ons include training in specific skills, one-on-one coaching, experience design assignments and overseas exposure. Interested? Ask for more info!
...as a BB Team Member!
Ever thought of living on a paradise island and working in an amazing team? We are growing internationally and welcome queries from candidates globally. If you feel that your life situation, passions, values and expectations are a good fit for agile and hugely ambitious teamwork, let us know what you got! We are specifically looking for people with experience and skills in Digital Marketing, Online Community Management, Experience Design, Tourism, Facilitation, Training, Coaching, Public Relations, Business Development, Marketing, Partnerships, Logistics and Customer Care. Send your CV!
Let's build something amazing together.
Think we might be the right are friends for your next adventure take a minute love to hear.